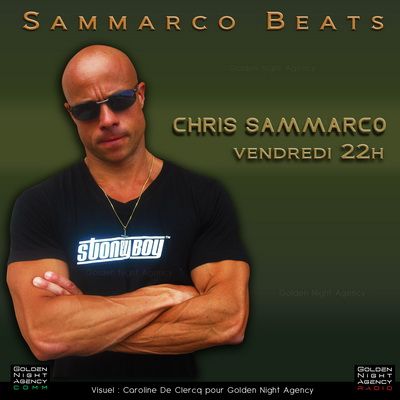 2013 has thus far been a banner year for New Jersey's DJ Chris Sammarco. Chris started off the year with two top 15 productions on Beatport (Stoney Boy Music's - Your Body and LAD Records - Crystal Piano) in the month of January. January also saw the start of his weekly residency on France's GNA Radio with his wildly popular French mix show, Sammarco Beats. Catch a glimpse of what you will hear every Friday at 10 pm (Vendredi 22 H) / 4 pm EST at the below link.
Tracklist:
1) DJ Mark One feat Jeromeo JJ-Party Up (StoneBridge mix)
2) When the Dawn Breaks 2012-My Digital Enemy / Jason Chance (Filter Headz remix)
3) Still the Same Man-Nicky Romero, John Nilson, John Christian
4) Supershuttle-Henry John Morgan
5) Wakanda-Dimitri Vegas and Like Mike
6) All For Love-Chris Moody featuring Christoper Jackson
7) Clobber-Dannic
8) I Found You-Mikael Weermets & Nico De Andrea
9) Code-Ummet Ozcan, W&W
10) Outbreaks-Art Shumiloff
11) Touch the Sky-Provenzano ft Amanda Wilson
12) 6 am-Nikolaz & Gant
13) I Feel Love-Jane Vanderbilt (Andrew Carra mix)
Just back from a tour of Norway, Sammarco has upcoming shows at New Jersey's Park East and the Winter Music Conference in Miami where he will be a featured DJ at S & S Records party on Sunday, March 17th at Love Hate Lounge along with StoneBridge, and Thursday, March 21st at the Catalina Hotel and Beach Club. Look for some hard hitting upcoming productions from Chris including Flash Brothers - Home on Stoney Boy Music, Ce Ce Peniston - Stepping, Steve Silk Hurley - Word is Love on S & S records, Matt Aubrey & Holevar ft LaRae Starr - Supernova on Supermarket records and an original production featuring vocals from New Jersey's Erika Lee in the pipeline as well. Planning is also in the early stages for a Sammarco Beats mixed compilation for late spring-early summer.
---
Related Posts: